The College of Liberal Arts and Sciences (LAS) is a diverse community of scholars and students who are actively engaged in acquiring and communicating knowledge across a broad spectrum of disciplines. We offer an excellent research-rich undergraduate and graduate education that prepares students to become engaged citizens in a world of multiple cultures, languages, and possibilities.  Across all of our programs, students are given learning opportunities that incorporate the sciences, social sciences, and humanities.  We offer more than just career preparation. We provide the knowledge, skills, and scholarly foundation necessary for long-term personal and professional success.
VISION
We aspire to achieve a level of national and international recognition with our faculty's strong dedication to ensuring access for students and maintaining excellence in scholarship. We believe that a liberal arts education serves as a foundation for life-long learning and provides a gateway to the pursuit of flexible career opportunities.
VALUES
We place the utmost value on INSPIRING our students to love learning for its own sake and remain part of an extended network of alumni; RESEARCHING the most challenging questions of our time and extending the frontier of knowledge; STIMULATING curiosity and collaboration across the natural sciences, social sciences, and humanities; and, ENGAGING the intellectual life of the College with the concerns of the people and institutions of our city, state, country, and world communities.
10 ,007 Undergraduate Students
1 /3 First-Generation College Students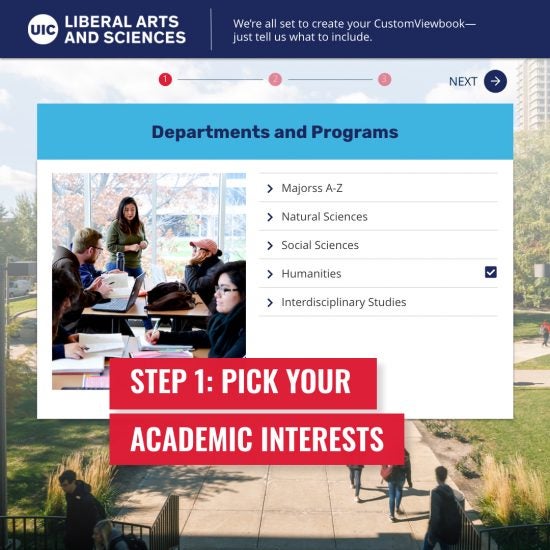 Discover LAS - Create Your Very Own CustomViewbook! Heading link
Explore all that LAS has to offer by creating your own personalized digital viewbook!  Simply choose your preferred academic and student life interests and gain instant access to a customized view of the College!
Create Yours Now
Improving Access to Higher Education...

UIC is ranked 8th on the "Best Values" list of the nation's universities, according to the 2020 edition of the Wall Street Journal and Times Higher Education rankings. The "Best Values" list, which assesses overall ranking, tuition, fees, housing, and federal and institutional aid among the top 250 overall schools, placed UIC in the top 10, ahead of the University of California, Los Angeles, and Princeton University. UIC also ranks 33rd and in the top 10% overall in the environment category, which assesses student and staff diversity, student inclusion and the proportion of international students.
U.S. News & World Report ranks UIC among the top 20 ethnically diverse national universities in their 2020 "Best Colleges" rankings, as well as No. 61 among U.S. public colleges and universities and No. 132 among all U.S. universities. UIC also ranks No. 14 in social mobility, a new category, which assesses the graduation rates of Pell Grant recipients.
UIC is ranked 5th in the "Best Bang for the Buck" rankings in the Midwest region by Washington Monthly magazine's 2019 College Guide, which ranks 372 schools according to how well they "help non-wealthy students attain marketable degrees at affordable prices." Washington Monthly ranks four-year schools based on their contribution to the public good in social mobility (recruiting, enrolling and graduating low-income and first-generation students); research (research expenditures, number of bachelor's recipients who go on to receive a Ph.D., faculty awards); and providing opportunities for public service (encouraging students to give back).
Money magazine ranks UIC within the top 100 colleges that are a great investment for your money (rankings considered educational quality, affordability, and alumni success).
Our students have access to unparalleled educational, cultural, and professional opportunities in Chicago and the world: 42% percent of UIC undergraduates pay no tuition to attend UIC and 98% of LAS students were accepted to programs at other universities and chose to come to UIC.
82% of UIC students receive need- or merit-based grants and scholarships. 52% of undergraduates receive Pell grants.

A Vibrant Community Committed to Diversity...

UIC and LAS embrace diversity in our faculty, students, and staff, as well as the subjects we teach and the work we pioneer. We have no racial or ethnic majority.
In 2020, UIC received its fifth consecutive Higher Education Excellence in Diversity award from INSIGHT Into Diversity Magazine, the oldest and largest diversity-focused publication in higher education that recognizes U.S. colleges and universities with an outstanding commitment to diversity and inclusion.
UIC's commitment to excellence, achievement, and diversity is ranked 14th among the nation's top American universities by the QS Quacquarelli Symonds 2020 World University Rankings.
LAS is made up of individuals who bring different backgrounds, perspectives, and life experiences with them, and our most profound accomplishments result from conversation and collaboration among these many viewpoints. The College is thus committed to doing all that it can to maintain and support meaningful diversity, and to take full advantage of this diversity by ensuring inclusion and promoting the flourishing of all members of the LAS community. This attitude and the actions it implies are part of the fabric of daily life in LAS, and are expressed in a wide range of its programs and activities.
UIC has received the designation of Hispanic- Serving Institution, or HIS, by the U.S. Department of Education, and has earned Excelencia in Education's "Seal of Excelencia," a national certification that recognizes colleges and universities for their "unwavering commitment to intentionally serve Latino students, while serving all." UIC is one of five higher education institutions selected for the distinction.
The University has been an Asian American and Native American Pacific Islander-Serving Institution (AANAPISI) since 2010. UIC has successfully received four grants providing $7.1 million to enhance programs supporting Asian American and Pacific Islander undergraduate students at UIC who make up 21% of the undergraduate student body. UIC is one of less than 30 institutions that have received funding through this Minority Serving Institutions program which started in 2008. UIC was the first funded AANAPISI in the Midwest in 2010 and is currently one of only 2 in Chicago and one of 5 in the Midwest.
UIC was named Illinois' best college and university for lesbian, gay, bisexual and transgender students, according to the 2020 edition of rankings from BestColleges, in partnership with Campus Pride.
UIC is one of only four Carnegie designated Research I Institutions in Illinois. There are currently only 115 Carnegie R1 universities in the United States, and UIC is one of the very few R1 minority-serving institutions in the nation.
UIC received the 2021 Institutional Excellence Award by the National Association of Diversity Officers in Higher Education, or NADOHE, for its efforts as a four-year public institution. Through the award, the organization seeks to recognize institutions that have "demonstrated measurable progress in promoting and sustaining innovative diversity, equity and inclusion efforts within their campus community."

World-Class Faculty at the Helm...

LAS faculty include: Fulbright Fellows, Guggenheim Fellows, a MacArthur Fellow, National Endowment for the Humanities (NEH) and National Endowment for the Arts (NEA) awardees, National Science Foundation (NSF) winners, Humboldt Fellows, Alfred P. Sloan Fellows, American Council for Learned Society Fellow, Microscopy Society of America Fellow, American Academy of Arts and Sciences member, American Society for 18th-century Vice President, GEMELA President, and National Book Prize and PEN/Faulkner Award finalists.
LAS is home to 11 endowed chairs as well as 11 active NSF Career awardees.
$120M was granted as a Department of Energy investment to support an Argonne National Laboratory JCSER battery hub of collaborating scientists and institutions led by LAS' Physics Professor George Crabtree.
$2.5M was awarded to the LAS Math, Statistics and Computer Science department through a prestigious NSF Research and Training Group Grant.
A $1.1M John Templeton Foundation grant was granted for research on the philosophy of space, time and quantum gravity led by LAS' Philosophy Professor Nick Huggett.
Pulitzer Prize finalist and LAS English Professor Luis Urrea's latest book House of Broken Angels has earned him the title of "one of our most important American public intellectuals" as reported by the Chicago Tribune.
LAS Chemistry Professors Cho and newly recruited Professor Zhou are the only recipients of a prestigious National Institutes of Health R35 Maximizing Individuals' Research Award (MIRA) on campus.
Aixa Alfonso, a professor in Biological Sciences, is the principal investigator of a $5.2M Department of Education grant that is awarded to Hispanic Serving Institutions to increase enrollment and graduation rates of Hispanic and low-income students in STEM degrees.

Advancing the Frontier of Knowledge...

UIC is one of only four Carnegie designated Research I (R1) institutions in Illinois. R1 is the highest rating for a research institution from the Carnegie Classification of Institutions of Higher Education, the gold standard for assessment.
At UIC LAS, undergraduate students have the unique opportunity to conduct original research under faculty mentorship through the LAS Undergraduate Research Initiative (LASURI). Projects range from studying the psychology of poverty to examining the thermal evolution of the moon.
$100M+ in external research funding has been generated by LAS's Learning Science Research Institute (LSRI) faculty members to support research on learning and teaching, particularly in the Chicago Public Schools.
Royalties from the HIV/AIDS drug (Prezista) have brought in over $24 million to LAS making it (to date) the most successful royalty-producing patent ever developed by University of Illinois faculty. A portion of these funds is endowing four faculty chairs in the sciences. Not only is Prezista an important treatment option for patients with drug-resistant HIV, but it was made available to the world's least developed nations at a price far lower than the U.S.'s commercial price.
$2.5M was awarded to the LAS Math, Statistics and Computer Science department through a prestigious NSF Research and Training Group Grant.
LAS has received nearly $1.9M in grant funding from the Andrew W. Mellon Foundation. $1M will create opportunities for four successive cohorts of 80 first-year students to take part in engaging humanities courses, workshops, and lectures each year, leading to a major research project and career or graduate preparation in their junior and senior years of study.
LAS is the recipient of a $1M Howard Hughes Medical Institute Inclusive Excellence (HHMI) grant to grow a professional learning community of STEM educators.
A multidisciplinary research team from the University of Illinois Chicago has been awarded a $3 million, three-year U.S. Department of Defense award to establish an undergraduate research mentoring program in science, technology, engineering and mathematics, or STEM, areas with a focus on engaging undergraduate student veterans and minority students. UIC's proposal was one of only 12 selected for funding. Mentors in the program include UIC faculty members and researchers Elizabeth Kocs, Fatemeh Khalili, Michael Stroscio, Jordi Cabana, Ksenija Glusac, George Papadantonakis, Donald Wink, Avia Rosenhouse-Dantsker, Lev Reyzin and Rigel Gjomemo. The project's principal investigator is LAS Distinguished Chair in the Natural Sciences Russell Hemley.