Special Programs
The College of Liberal Arts and Sciences (LAS) is a leader and innovator in preparing students for long-term success. We believe that a liberal arts and sciences education serves as a foundation for life-long learning and provides a gateway to the pursuit of flexible career opportunities.
In keeping with our vision of excellence, UIC offers a number of distinctive opportunities to support students' academic success including the Honors College, the Guaranteed Professional Program Admissions program, Office of External Fellowships, and many study abroad options.
UIC Honors College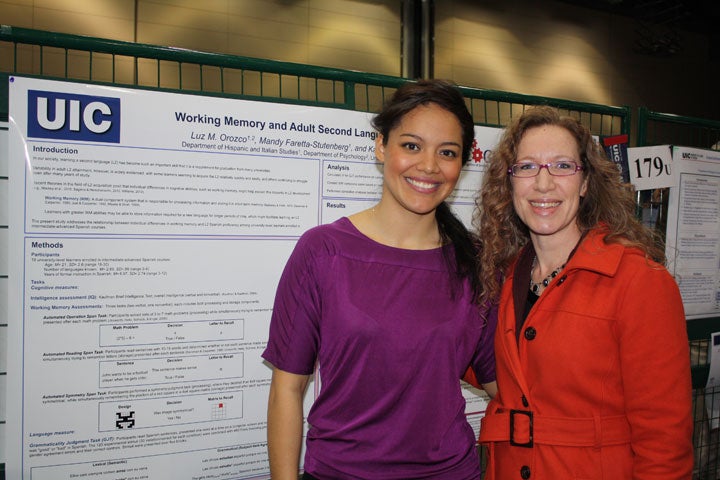 The Honors College provides an environment for advanced intellectual growth by offering additional educational challenges as well as campus and community engagement and leadership experiences. Students enjoy many special opportunities including small seminars, faculty mentors, undergraduate research, honors activities, social experiences, dedicated facilities, scholarships, and supportive professional advisors.
UIC Guaranteed Professional Program Admissions
Each year, the Guaranteed Professional Program Admissions (GPPA) Program grants admission to a limited number of first-year students for study in one of several professional degree programs including Medicine, Pharmacy, Nursing, Law, and Dentistry. Students must meet established performance criteria to maintain guaranteed admission. Benefits include the freedom to pursue a variety of undergraduate academic experiences and early and frequent contact with professional school faculty and advisors.
UIC Office of External Fellowships
The Office of External Fellowships (OEF) assists current UIC undergraduates in applying for nationally competitive scholarships, fellowships, and external scholarship awards. The knowledgeable program staff provides information about available awards and application processes, and offer assistance throughout the scholarship application process.
UIC Study Abroad
UIC is committed to helping students become well-rounded and influential leaders. The Study Abroad Office supports students by internationalizing the curriculum through program opportunities on six continents. International cultural immersion helps students build awareness of the opportunities and challenges present in an increasingly global society, and greatly enhances their undergraduate experience. Some scholarship and grant support is available for an international academic experience for those who qualify.
UIC Service Opportunities
Student Leadership and Civic Engagement provides a variety of programs and service opportunities with community partners in the many neighborhoods of Chicago, supporting students to become lifelong active citizens. The UIC Day of Service takes place each April and is the campus's largest service event. With partners from multiple sites and community organizations across the city, the day brings together the entire UIC community to give back to Chicago. Other service opportunities include Dr. Martin Luther King Jr. Day of Service, Make Mondays Matter, and volunteer work with the University of Illinois Hospital and Health Sciences.