Student Research
Participation in research in the sciences and humanities opens a world of new learning and knowledge for students.  LAS offers a range of undergraduate and graduate research opportunities.  Here, students will:
Learn about topics in greater depth while also developing valuable relationships with faculty.
Gain knowledge of the research process in specific fields in the sciences and humanities.
Learn to work independently and tackle hurdles during the research process.
Learn to think critically and communicate effectively.
Enhance professional or academic credentials.
Clarify career goals and gain skills to support professional success.
Undergraduate Research Experience

The Undergraduate Research Experience is a university-wide program dedicated to fostering scholarly engagement and intellectual growth. The Undergraduate Research Experience mission is to make research an integral part of the undergraduate academic experience at UIC by creating mutually beneficial research relationships between students and faculty researchers. Students can gain valuable research skills, professional experience, develop mentoring relationships with faculty and researchers, and earn credit hours toward graduation.

Students can search undergraduate research opportunities through the UIC Undergraduate Research Experience. New projects are added throughout the year.

Student Research Forum

Every spring semester, UIC students produce the Student Research Forum. The Student Research Forum represents one of the finest student-run activities at UIC. Led by members of the Student Research Forum Steering Committee, the event allows student officers and members to be involved in all aspects of planning, from catering to judging to encouraging fellow students to participate. SRFSC members have the chance to interact with faculty and staff from across campus during the planning phases of the event and help make the event meet the needs of students. It is one of the few student activities that is academic in nature and includes the entire student body; undergraduate, graduate and professional. The Forum provides a venue for students at UIC to present their scholarly efforts and is an event in which the campus celebrates the wealth of research across all disciplines carried out by the dedicated students of this campus.

Summer Research Opportunities Program

The goal of the Summer Research Opportunities Program (SROP) is to introduce underrepresented sophomores and juniors to academic research experiences. Student participants work one-on-one with a faculty mentor giving them an opportunity to experience research and the graduate student experience.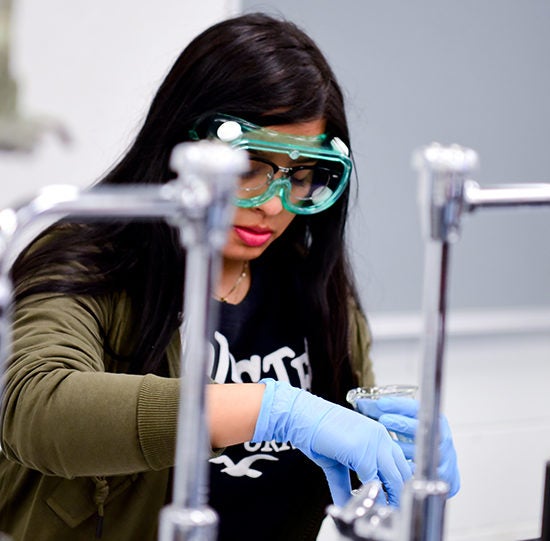 The College of Liberal Arts and Sciences features the LAS Undergraduate Research Initiative (LASURI).
LASURI encourages undergraduates to develop research projects under the guidance of a faculty mentor. The program fosters an intellectual and social community among UIC undergraduates and faculty, and develops the research, communication, and leadership skills of undergraduate students. Eligible undergraduate research assistants can receive an award of up to $1,250 per semester to support their LASURI research project. Check out a few samples of recently completed LASURI undergraduate research projects.
Learn More