Admitted Students
IGNITE: Admitted Student Day 2021 Recap
Watch College of Liberal Arts and Sciences students, faculty, and advisors present during IGNITE. Learn about our academic programs in the humanities, interdisciplinary programs, sciences, social sciences, and resources to help students succeed at UIC.
View On Demand Videos
Welcome to UIC College of Liberal Arts and Sciences!
Welcome
I'm Admitted
LAS offers students the knowledge, skills, and scholarly foundation necessary for long-term personal and professional success. Students choose from over 40 majors and minors across the humanities, social sciences, sciences, and interdisciplinary programs. We also offer 11 pre-professional program options, including pre-medicine, pre-nursing, pre-pharmacy, pre-dentistry, and pre-law.
Now that you are admitted to UIC Liberal Arts and Sciences, learn how to:
Accept your UIC admissions decision: next steps to submit your Intent to Enroll, complete placement tests to prepare for summer's UIC virtual orientation, and financial aid resources.
Learn from current student leaders: campus involvement, including undergraduate research, campus organizations, student employment; major exploration, career development, and internships.
Engage with our virtual resources: LAS CustomViewbook, Major Minute video series, LAS Campus Tour, and on demand webinars.
Connect with our LAS Recruitment & Engagement team: ask us questions at lasinfo@uic.edu; we can connect you to campus resources to help you prepare for life at UIC.
Accept Your Admission Offer
Pre-Health Advising
Learn about campus resources such as advising, undergraduate research, faculty mentoring, leadership development to prepare our pre-health LAS undergraduates for health professions careers, including medicine, nursing, pharmacy, dentistry and more.
UIC Pre-Health Resources
Take a UIC Campus Tour
Visit a few of our students' favorite UIC campus spaces — classrooms, laboratories, learning centers, the Richard J. Daley Library, Student Center East, and our new Academic and Residential Complex.
Create Your Own LAS CustomViewbook!
Explore all that LAS has to offer by creating your own personalized digital viewbook. It only takes seconds to create and is tailored to your unique academic and student life interests.
Create Yours Now
All Things Science
Join a behind the scenes tour and experience how UIC students connect with All Things Science — laboratories, undergraduate research, faculty mentors, the Math & Science Learning Center.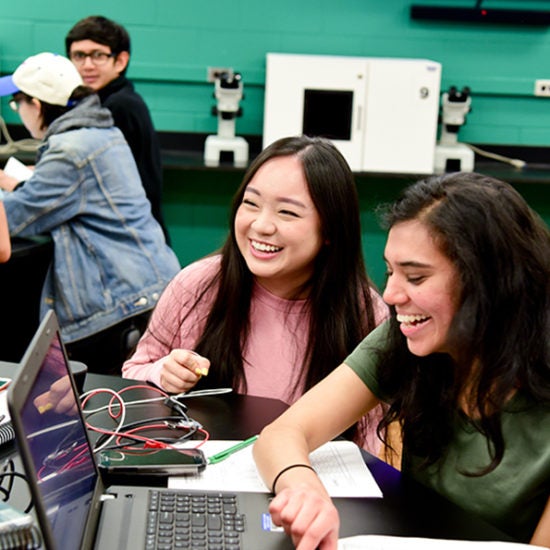 Explore My Major
Explore My Major highlights the unique competencies and skills of UIC Liberal Arts and Sciences majors, LAS alumni career paths, relevant links to academic disciplines, and current LAS student testimonies. This resource is a great way to explore LAS majors and learn about the many unique skills, perspectives, and applications of each UIC LAS major.
Explore My Major
Career Development & Internships
Join a virtual tour to examine our career development resources, including Explore My Major, Career Snaps, and internship resources.
Join the Tour
Major Minute Video Series
My Major Minute Video Series showcases snapshot interviews of UIC Liberal Arts and Sciences students who share their story of how they explored, tested out 'fit', and applied their liberal arts and sciences majors to their future interests. Our Major Minute students share the value of their major, offer tips and advice on major exploration, and discuss their approach to making major and career development decisions.
Our LAS Student Leaders
Our student leaders detail why they chose UIC: first-year student experience, transfer student experience, undergraduate research, study abroad, academic advising, faculty mentoring, internships, and access to Chicago's resources.
Contact LAS Recruitment & Engagement