University of Illinois at Chicago Graduate Saul Gonzalez of Chicago, IL, Travels to Belize to Study Marine Conservation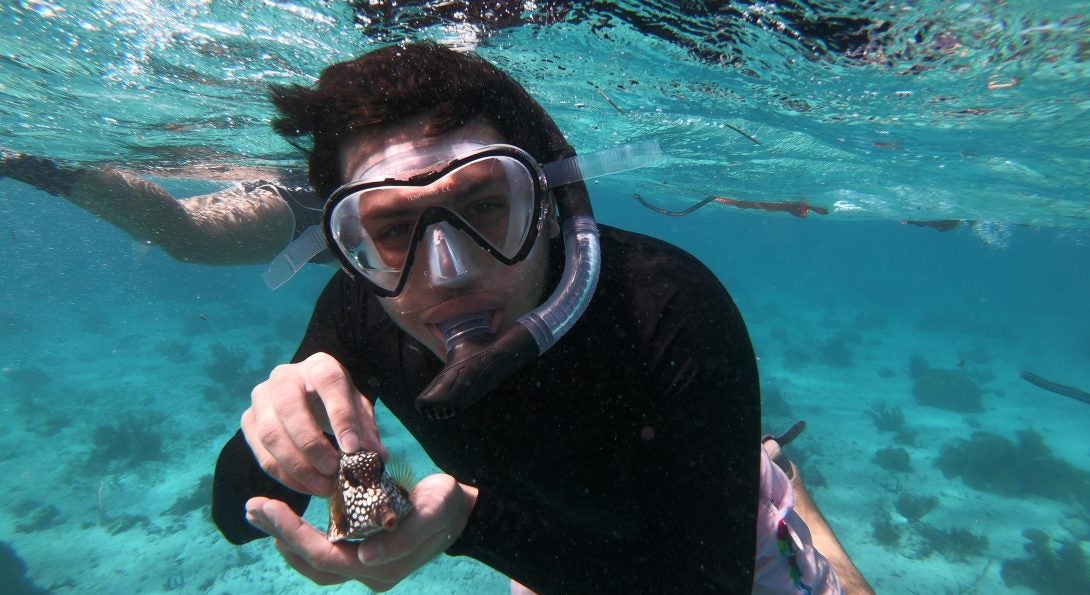 This winter, Saul Gonzalez, 22, of Chicago, Illinois, spent ten days in Ambergris Caye, Belize learning about island biogeography, marine research and biology, and conservation. Traveling with study-abroad organization CELA Belize, Saul was selected as part of a small team that volunteered along the Belize Barrier Reef helping to perform research surveys of the reef and local marine life.
The Tropical Marine Ecology program brings students to Belize for 10 days during which they learned from CELA marine experts as well as local conservation staff and guides. Saul and his team also earned their SCUBA certification in order to better equip them to work on marine projects in the future. The goal of the program was to train students in marine research methods and give them a chance to learn about the coral reef system in Belize and how they interact.
A designated world heritage site and the second-largest reef system in the world, the Belize Barrier Reef offers students a unique learning experience at some of the most spectacular coral reef locations left on earth. During their snorkel surveys and dives, students had the chance to document live coral coverage, coral pathogens and grazers, reef damage due to human activity and much more. Students also got the opportunity to encounter endangered species that only a lucky few will ever see.
Saul and his team performed snorkel surveys that form part of a tracking system to determine changes in the reef and specific corals over time, helping to promote conservation efforts for coral reefs.
CELA Belize has animal science and veterinary programs for undergraduate and veterinary students, as well as internship programs throughout Belize. Programs are offered in summer and winter and are two weeks long, and college credit through University of Findlay is available. Interested participants can inquire or apply at www.celabelize.com. Professors and teachers who want to travel with a group of students to Belize can work with CELA to connect their students with local conservation projects, schools, development projects, and service learning opportunities.
By following a study abroad model instead of a voluntourism model, CELA Belize focuses on educating its students so that they can contribute and serve in meaningful ways. Students learn from the expertise of local Belizean staff. It also works with locally run animal welfare organizations so that students contribute to long-term improvement on the ground in the countries they visit. CELA has been based in Belize for over a decade, and with the help of students like Saul, continues to help support important sustainability and development projects in Belize.
The program's Managing Director Jane Stine says, "Our students come to Belize because they want to experience another culture in a way that supports and learns from the local expertise. On this program, they have the chance to see Belize from a Belizean point of view and learn from our amazing veterinary team, and we love seeing them bring that knowledge and experience home to move even further in their veterinary and conservation careers."
Of his trip, Saul says, "My time studying tropical marine ecology in Belize has certainly been one of the most memorable and impactful experiences of my life. Witnessing the dying coral reefs was a very difficult moment during my studies. However, there is hope, and with the help of marine protected areas and conservation efforts, the Belize barrier reef is recovering. I am so grateful to have been given this opportunity and be able to share what I learned and experienced as I continue my studies in marine biology."
Saul recently graduated from the University of Illinois at Chicago with a degree in Biological Sciences.