Feb
28
2023
Climate Change in a Connected World
LAS Faculty Research Symposium
February 28, 2023
10:00 AM - 5:15 PM
Location
SCE Illinois Rooms
Address
750 S Halsted St, Chicago, IL 60607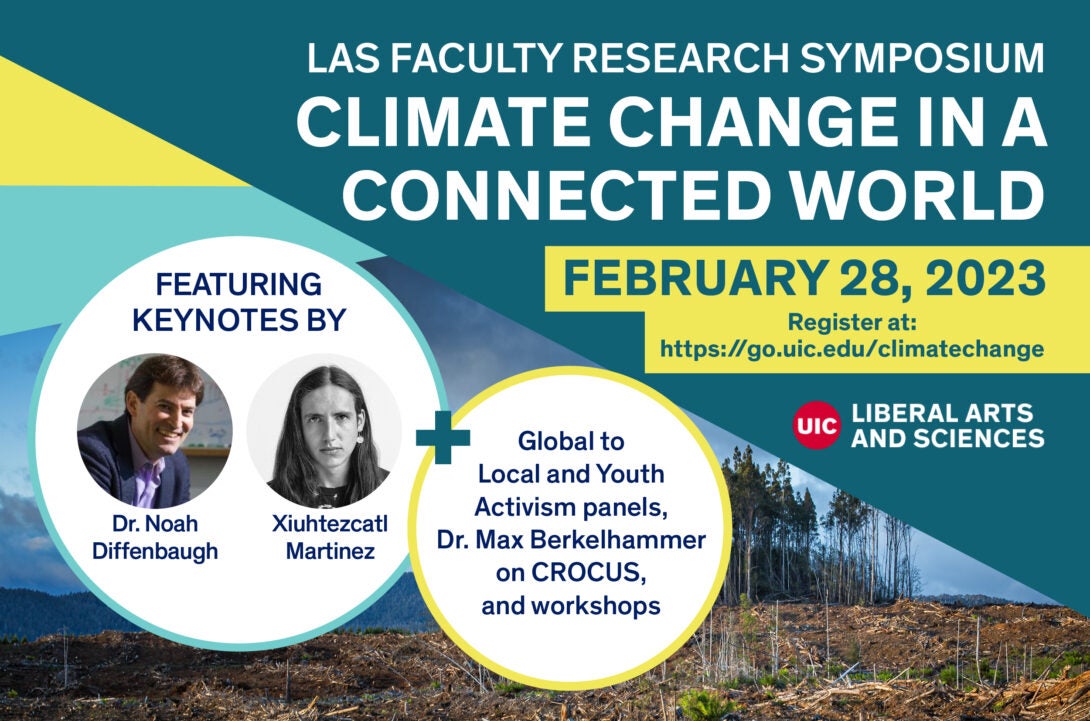 Videos of the keynotes, panels, and CROCUS talk are now on Box!
Featuring keynotes, panel discussions, and workshops by climate scientists and activists. Open to students, faculty, staff, and the community.
Pre-registration for in-person attendance is now closed, but we welcome day-of registration. To request the livestream link, please email lasevents@uic.edu, and include your name, UIC affiliation (student, alum, etc.) and how you found out about the event.
Please direct questions to lasevents@uic.edu. Masks are strongly encouraged for this event.
SCHEDULE
10:00 am - Symposium begins
Welcome -Lisa Freeman, Dean of Liberal Arts and Sciences
Land Acknowledgement
Opening Remarks - Kathryn Nagy, Head of Earth and Environmental Sciences
10:10 am     Keynote – Dr. Noah Diffenbaugh, Kara J Foundation Professor and Kimmelman Family Senior Fellow, Stanford University Doerr School of Sustainability
10:35 am     Panel 1 - Global to Local Climate Connections (in honor of George Crabtree)
Moderator: Elisabeth Moyer, Associate Professor of the Geophysical Sciences, University of Chicago
Akintomide Akinsanola, Assistant Professor of Earth and Environmental Sciences, UIC and Argonne National Laboratory
Elena Grossman, Senior Research Specialist in the School of Public Health, Program Director of the Climate and Health Institute, UIC
Rachel Havrelock, Professor of English, Director of the Freshwater Lab, UIC
Gina Ramirez, Midwest Outreach Manager at Natural Resources Defense Council
Iyana Simba, City Programs Director at the Illinois Environmental Council
11:20 am     Break
11:35 am    Keynote - Xiuhtezcatl Martinez, advocate, leader, activist and hip hop artist
12:00 pm    Panel 2 - Climate Youth Activism
Moderator: Rosa M. Cabrera, Executive Director of the Latino Cultural Center, UIC
Anissa Camacho, student in Anthropology and Latin American and Latino Studies, Vice President of the Union of Puerto Rican Students (UPRS), UIC
Trinity Colon, environmental justice organizer and abolitionist, student in Social Policy, Environmental Policy & Culture, and Latino Studies, Northwestern University
Leslie Cortez, Youth Organizer at the Little Village of Environmental Justice Organization
Nia Cunningham, student in Gender and Women's Studies and Nonprofit Management, Student Leader at the Latino Cultural Center Heritage Garden, UIC
Jocelyn Vazquez-Gomez, student in Urban Studies, UIC, and Just Transition Organizer, Little Village Environmental Justice Organization
1:00 pm        Lunch
2:00 pm       Urban Climate and CROCUS
Max Berkelhammer, Associate Professor of Earth and Environmental Sciences, UIC, and co-PI, CROCUS
Naomi Davis, founder & CEO, Blacks in Green, community partner in CROCUS
2:40 pm       Break
2:45 pm       Workshop - Connecting UIC and Local Communities for Climate Action, facilitated by Jennifer Brier, Professor and Director of Gender and Women's Studies and Professor of History, UIC
4:15 pm       Reception
Speakers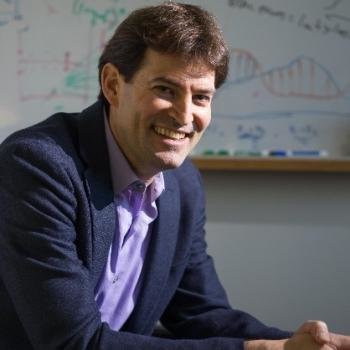 Noah Diffenbaugh
|
Kara J Foundation Professor and Kimmelman Family Senior Fellow; Olivier Nomellini Family University Fellow in Undergraduate Education
|
Doerr School of Sustainability, Stanford University
Dr. Noah Diffenbaugh studies the climate system, including the processes by which climate change could impact agriculture, water resources, and human health. Dr. Diffenbaugh has served the scholarly community in a number of roles, including as the inaugural Editor-in-Chief of the peer-review journal Environmental Research: Climate, and as Editor-in-Chief of Geophysical Research Letters from 2014-2018. He has also served as a Lead Author for the Intergovernmental Panel on Climate Change (IPCC), and has provided testimony and scientific expertise to Federal, State and local officials. Dr. Diffenbaugh is an elected Fellow of the American Geophysical Union (AGU), a recipient of the James R. Holton Award and William Kaula Award from the AGU, and has been recognized as a Kavli Fellow by the U.S. National Academy of Sciences.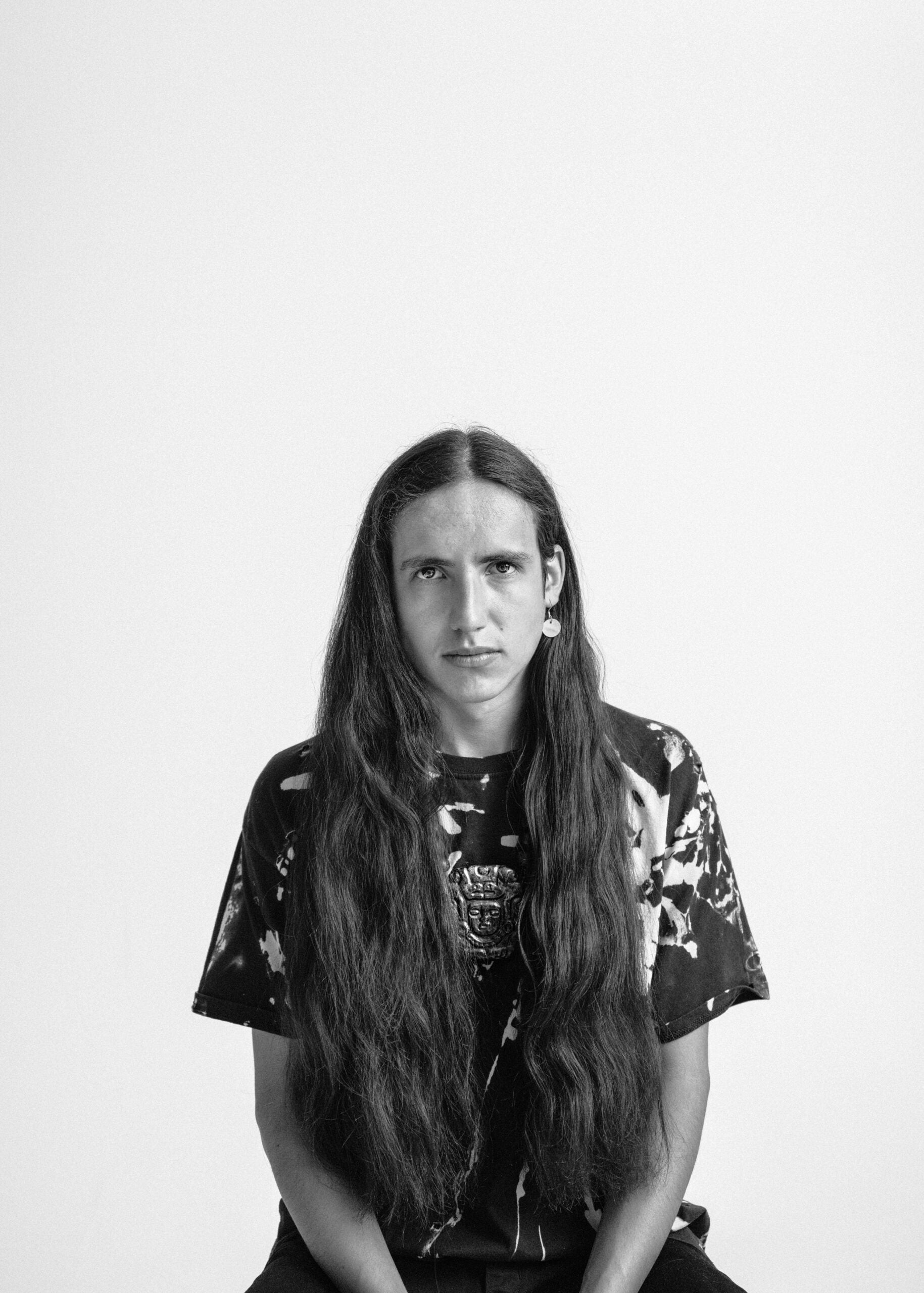 Xiuhtezcatl Martinez
|
Advocate, leader, activist, and hip hop artist
|
Earth Guardians
Xiuhtezcatl Martinez is an advocate, leader, activist and hip hop artist. He has been on the frontlines of the climate and environmental movement since the young age of 6. Recently named TIMES Next 100, Xiuhtezcatl has felt called to change the narrative on what it means to be an activist from an early age. Still a youth, X has spoken multiple times at the UN, addressing the General Assembly and spoken on panels with the likes of Bernie Sanders, Van Jones, Shailene Woodley, Bill McKibben and Pharrell Williams. Xiuhtezcatl has been a guest on the Daily Show with Trevor Noah & Real Time with Bill Maher. He has also been featured multiple times on PBS, Showtime, National Geographic, Rolling Stone, Upworthy, The Guardian, Vogue, Nickelodeon, Comedy Central, CNN, MSNBC, HBO, Netflix, VICE, as well as photographed by Annie Leibovitz. Xiuhtezcatl has a unique talent for connecting people through popular culture and sharing the message of his indigenous roots to better serve the planet and reimagine the future for his generation.