Mar
29
2023
LAS Distinguished Professor Lecture and Award Ceremony: Dr. Beth E. Richie
March 29, 2023
3:30 PM - 5:30 PM
Location
SCE Cardinal Room (329)
Address
750 S Halsted St, Rm 329 (Cardinal Room), Chicago, IL 60607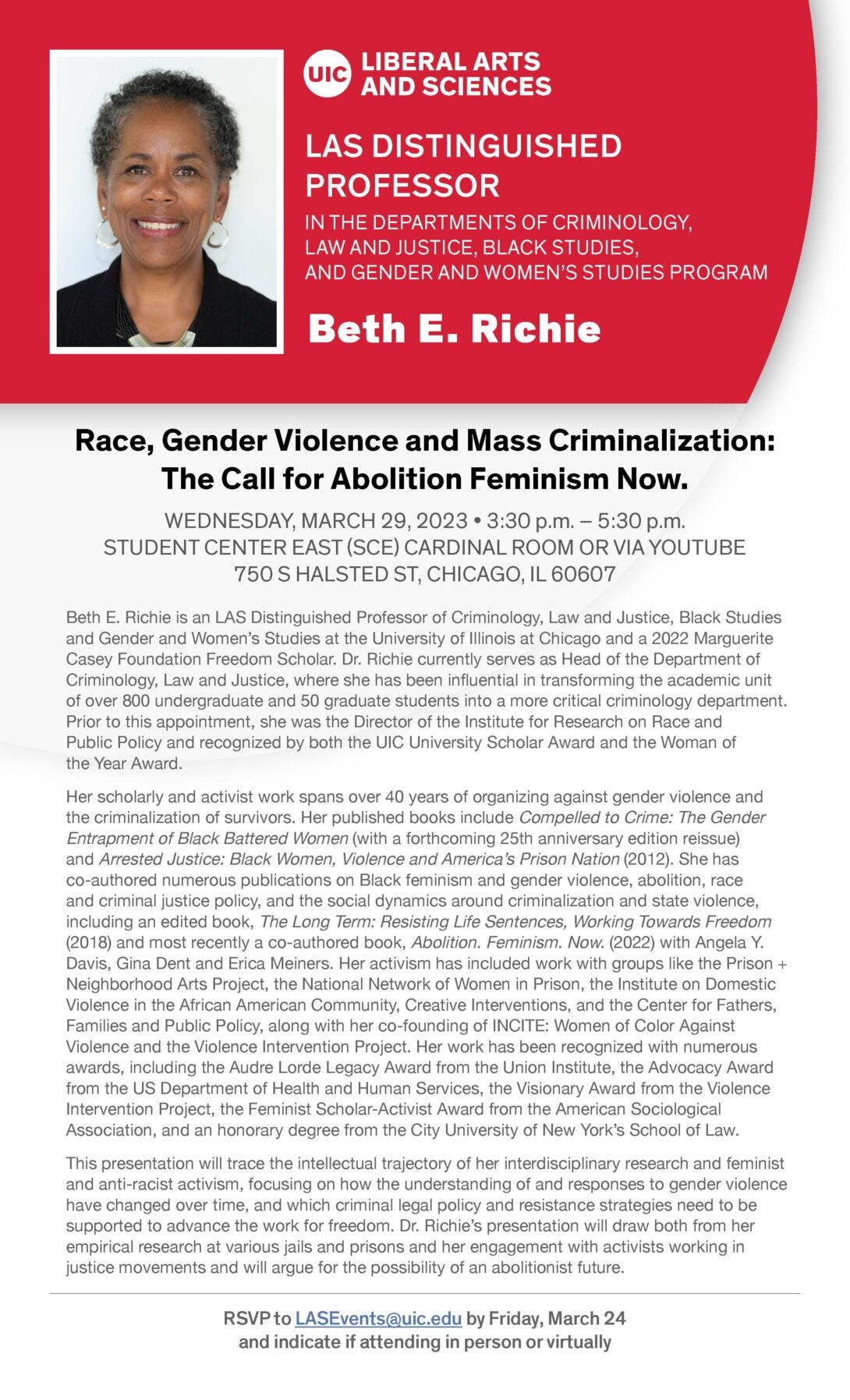 LAS DISTINGUISHED PROFESSOR IN THE DEPARTMENT OF CRIMINOLOGY, LAW AND JUSTICE, BLACK STUDIES AND GENDER AND WOMEN'S STUDIES
Beth E. Richie
Race, Gender Violence and Mass Criminalization:  The Call for Abolition Feminism Now
WEDNESDAY, MARCH 29, 2023 • 3:30 p.m. – 5:30 p.m. or via YouTube
Beth E. Richie is an LAS Distinguished Professor of Criminology, Law and Justice, Black Studies and Gender and Women's Studies at the University of Illinois at Chicago and a 2022 Marguerite Casey Foundation Freedom Scholar. Dr. Richie currently serves as Head of the Department of Criminology, Law and Justice, where she has been influential in transforming the academic unit of over 800 undergraduate and 50 graduate students into a more critical criminology department. Prior to this appointment, she was the Director of the Institute for Research on Race and Public Policy and recognized by both the UIC University Scholar Award and the Woman of the Year Award.
Her scholarly and activist work spans over 40 years of organizing against gender violence and the criminalization of survivors. Her published books include Compelled to Crime: The Gender Entrapment of Black Battered Women (with a forthcoming 25th anniversary edition reissue) and Arrested Justice: Black Women, Violence and America's Prison Nation (2012). She has co-authored numerous publications on Black feminism and gender violence, abolition, race and criminal justice policy, and the social dynamics around criminalization and state violence, including an edited book, The Long Term: Resisting Life Sentences, Working Towards Freedom (2018) and most recently a co-authored book, Abolition. Feminism. Now. (2022) with Angela Y. Davis, Gina Dent and Erica Meiners. Her activism has included work with groups like the Prison + Neighborhood Arts Project, the National Network of Women in Prison, the Institute on Domestic Violence in the African American Community, Creative Interventions, and the Center for Fathers, Families and Public Policy, along with her co-founding of INCITE: Women of Color Against Violence and the Violence Intervention Project. Her work has been recognized with numerous awards, including the Audre Lorde Legacy Award from the Union Institute, the Advocacy Award from the US Department of Health and Human Services, the Visionary Award from the Violence Intervention Project, the Feminist Scholar-Activist Award from the American Sociological Association, and an honorary degree from the City University of New York's School of Law.
This presentation will trace the intellectual trajectory of her interdisciplinary research and feminist and anti-racist activism, focusing on how the understanding of and responses to gender violence have changed over time, and which criminal legal policy and resistance strategies need to be supported to advance the work for freedom. Dr. Richie's presentation will draw both from her empirical research at various jails and prisons and her engagement with activists working in justice movements and will argue for the possibility of an abolitionist future.
RSVP to LASEvents@uic.edu by Friday, March 24 and indicate if attending in person or virtually.
Date updated
Feb 23, 2023